Africa Insight informed Pressenza that on behalf of Korean national and international CSOs, it has successfully submitted policy recommendations to the Republic of Korea Ministry of Foreign Affairs and the African Union Commission.
He handed over 50 books of policy recommendations to each delegation and high-level representative on the day of the forum on March 3, 2022. Africa Insight is a Seoul-based NGO that aims to facilitate education and awareness of the development of Africa, both in Korea and around the world. The submission of the 1st Civil Society Policy Recommendation was made to the Korean government on the occasion of the 5th Korea-Africa Forum with 61 organizations and 107 individuals from 21 different countries.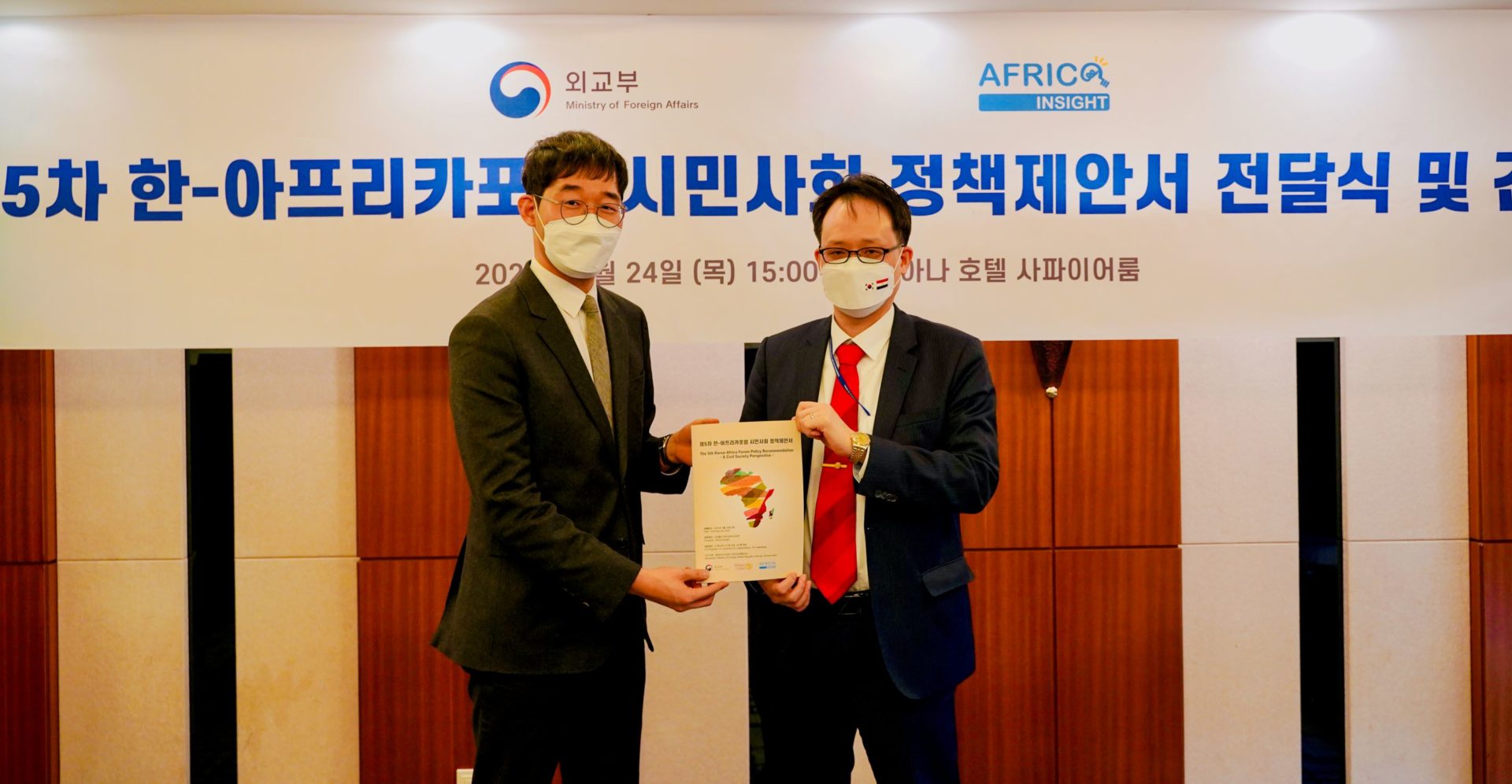 Based on the Seoul Declaration, the Korea-Africa Cooperation Framework 2022-2026, the wide range of cooperation recommendations includes but is not limited to defining the priority cooperation areas for the next five years on the response to Covid -19, under development cooperation, to facilitate digital innovation, youth and women empowerment, energy, infrastructure and industrialization, human resources development, agriculture , trade and investment, peace and security, cultural exchanges.
The first part of the document contains CSO's suggestions on Korea's foreign policy towards Africa. With the permission and collaboration of the proposer, Africa Insight, we would like to present here some of the documents shared.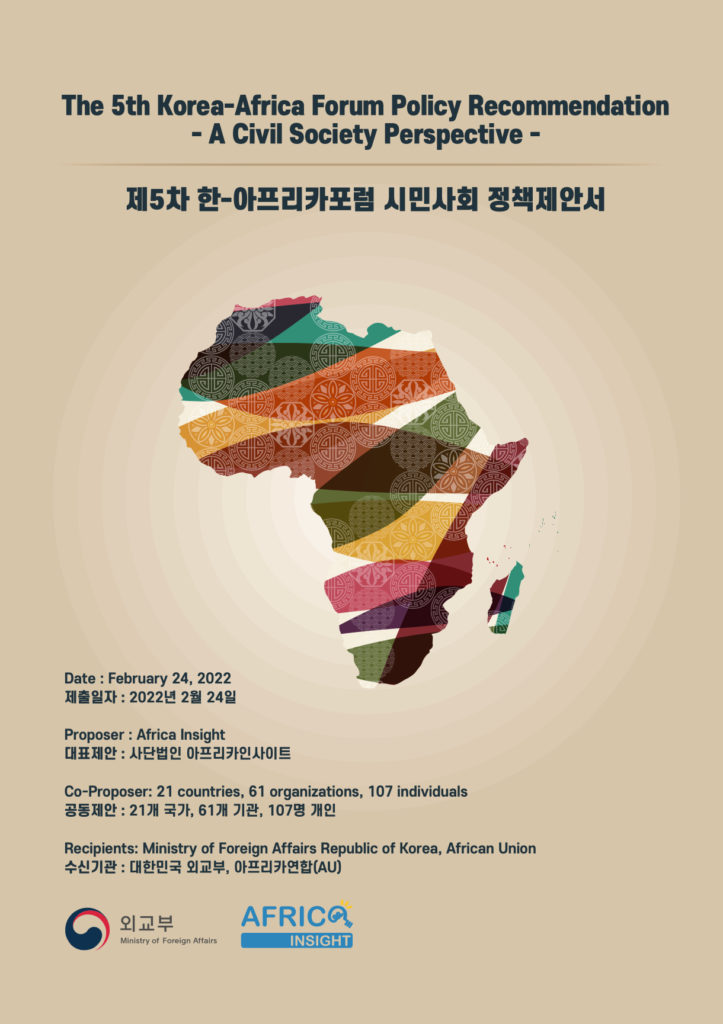 Korea's foreign policy towards the African continent
Korea should establish a tailor-made, distinct, medium- and long-term foreign policy towards the African continent, aiming at enhanced cooperation. A phased implementation strategy should be in place. Policies and strategies based solely on Korea's perceptions and perspectives cannot succeed. It is imperative that Korea develops strategies rooted in a deep understanding of each African country with a plan for phased implementation.
Medium and long-term strategies that reflect the development and particularities of the African continent.
Korea needs a medium to long-term strategy with its government projects when engaging with the African continent, aligned with the African Union (AU) Agenda 2063. The design of government projects should be a collaboration of Korean organizations with expertise in African issues, and the Korea-Africa Foundation. A three-tier phased approach should take place over 45 years, with each period being 15 years each.
1st period (15 years, 20th – 22nd administrations)
Implementation of the 1st priority task of cooperation with Africa (2022-2026)
Implementation of the 2nd priority task of cooperation with Africa (2027-2031)
Implementation of the 3rd priority task of cooperation with Africa (2032-2036)
2nd period (15 years, 23rd – 25th administrations) 2037-2051
3rd period (15 years, 26th – 28th administrations) 2052~2066
Control tower for cooperation with Africa. A control tower should be established directly under the president, or the Office of Government Policy Coordination. This office will be responsible for controlling, managing and monitoring exchanges and cooperation between Korea and African countries, based on a medium and long-term plan. Currently, exchanges take place sporadically and in parallel between various entities, such as the government, the National Assembly, provincial governments, public institutions, companies, civil society organizations, etc.
Tailor-made and particular approaches
A mutually beneficial approach based on empathy. We must establish a partnership between Korea and African countries based on equality, long-term planning and mutual understanding with a deeper and broader awareness of past histories of colonialism and the slave trade. Many African countries are interested in the Korean experience in the simultaneous pursuit of economic growth and democratization and have adopted the Korean experience as an example. Korea should actively share its experiences with African countries taking into account local contexts. Korea should also strategically use its comparative advantages in ICT, business/enterprise competitiveness and soft-power, also known as K-Culture. Korea needs a unified message and approach, distinct from other countries, focusing on citizen diplomacy and human interaction.
Korea's foreign policy on the African continent to focus on key partner countries. Korea needs to use its limited resources more effectively by focusing on carefully selected partner countries, taking into account the opinions of the private sectors and civil society for its foreign policy. We must simultaneously take into account the main interests and needs of each country and the political tendencies of Korea. We need an approach adapted to each country rather than a unified approach for several countries.
Investment in human resources
Support regional and sector experts working on Africa. A systematic monitoring and follow-up support mechanism with African regional and sectoral experts, such as African Studies graduates, Korea National Diplomatic Academy alumni, government scholars, foreign volunteers from World Friends Korea and other African experts from the business sector, is needed. Korea needs medium to long-term official planning and investment to support experts. The Korean education sector should include multiculturalism and diversity in the curriculum, including the African continent, so that young students are exposed to unbiased information regarding the region from an early age.
Support for Korean nationals living in Africa. There must be an opinion survey and needs assessment of the approximately 10,000 Koreans (2019 statistics) living in African countries. This is to solve the difficulties faced by Koreans residing in African countries and to support the advancement and entry of Korean people into African countries. Based on this assessment, there must be increased support tailored to each region and situation.
Investment in African human resources. Further expansion and training, scholarships and exchange programs are needed so that more Africans can benefit from their experiences in Korea, demonstrate their expertise and contribute to Korea-South Korea relations, exchanges and cooperation. 'Africa. An expansion of systematic and budgetary support is essential to activate African community activities and improve their living conditions in Korea, which encourages more Africans to visit Korea and leads to a self-reliant system.
Expansion of public-private-civil society partnerships and public diplomacy.
Expansion of Korean diplomatic infrastructure in Africa. Korea's diplomatic capacity in Africa should be enhanced by expanding its diplomatic infrastructure, such as budget and human resources, to reflect Korea's standing in the international community.
Cooperation with civil society, academic institutions and cultural/artistic groups. The government should work with civil society and non-governmental sectors actively engaged in exchanges and cooperation with African countries in their respective expertise. Strengthening cooperation between the public and civil society, creating synergy effects and broadening their impact will, in turn, enable the realization of public diplomacy.
Support for business/enterprise investment and entry into African markets. An expansion of systematic and practical support through consultation with key partner countries and relevant ministries for Korean companies is needed to increase investment and operations in African countries.